First pesticide-tested certified cannabis product hits the shelves
The first "safe" cannabis product was delivered to Satori 502 cannabis retail store, Spokane, WA 05-05-16
The Safe Cannabis Project (SCP) is a group of industry leaders including testing labs, growers, processors and retailers who have been working with government officials, laboratory scientists and industry professionals to develop testing standards and protocols and to design a sampling methodology to ensure accurate and legitimate testing. The Safe Cannabis Project logo allows consumers to make informed decisions about their purchase of pesticide-tested cannabis products. A key goal of the SCP is also to educate retailers and consumers about pesticide use in general and "safe cannabis".
Source: CannabisConsumerResearch.com
---
Quality Assurance Work Group
On April 15, 2016, the Washington State Liquor and Cannabis Board (WSLCB) established the Quality Assurance Work Group to enhance the quality assurance testing protocols of recreational and medical cannabis. The WSLCB selected 10 private sector individuals to assist in establishing policies that help ensure end user safety. Trace Analytics' Chief Operating Officer, Jason Zitzer, was selected as one of the Work Group's representatives.
---
WA state imposes proficiency testing for cannabis testing labs
Breaking News by Alan Brochstein, CFA
Following controversy regarding the accuracy of mandated cannabis lab tests and a public call for action by Steep Hill (below), Washington State Liquor & Cannabis Board (WSLCB) has imposed emergency rules regarding proficiency testing.
Source: NewCannabisVentures.com
---
Open letter from Steep Hill cannabis testing lab
"Cannabis is safe but some contaminants can kill you."
"Pesticide poisoning, as well as exposure to microbiological organisms like E. coli or Aspergillus can be fatal - especially for an immunosuppressed patient. We know that cannabis products sometimes contain these contaminants. Yet some certified laboratories in Washington State have recently been shown to still be approving them for sale.
You might ask, how is this possible? Isn't the State watching over the suppliers and the supply chain? The answer is that a chain is only as strong as the weakest link, and some labs have been found to have even falsified test results to help their clients get unsafe products to market.
A recent third-party audit of certified i502 laboratories identified Steep Hill as one of the top labs in Washington. While that does make us proud, we don't view that as a sign of perfection. We are obligated to offer consumers the assurance of knowing that any product tested by Steep Hill is a product that is clean and safe. Proper science requires investment and commitment.
Only certain labs have accepted this responsibility - and we're happy to stand at the forefront of consumer safety alongside other top-notch Washington test labs like Trace Analytics. Together we are here to uphold the highest standards of quality in the cannabis industry - and we can't all succeed if other laboratories willfully invite contaminated cannabis onto dispensary and recreational market shelves."
Source: Steep Hill 
---
Federal reclassification of cannabis boon for medical marijuana research
"Federal authorities have announced that they are reviewing the possibility of loosening the classification of marijuana, and if this happens, it could have a far-reaching impact on how the substance is used in medical settings, experts said.
Marijuana is currently classified as a Schedule I drug, meaning it is listed alongside heroin and LSD as among the "most dangerous drugs" and has "no currently accepted medical use and a high potential for abuse."
The Drug Enforcement Administration announced last week that it is reviewing the possibility of reclassifying it as a Schedule II drug, which would put it in the same category as Ritalin, Adderal and oxycodone.
Medical experts welcome the review, saying it could ease restrictions for researchers, so that they can better understand which compounds in marijuana could be used to help patients.
The American Medical Association told ABC News that the group supports the review "to help facilitate scientific research and the development of cannabinoid-based medicines."
Source: ABCNews
---
RESPONSE: Medical Marijuana DOH Hearings, Spokane, WA 03-22-16
by Tracy Sirrine.  Patients for Patients
Dear Medical Advisory Board,
I am writing to you today with great concern. The state is not, in my opinion, prepared to help the patients of Washington State obtain access to affordable and medical grade, no contaminates, heavy metals, or pesticides, products for cannabis products.
The Patient Protection Act has drastically reduced the patients ability to grow their own medication.
Many of the products that patients are currently using successfully, will not be available when the markets merge. Providing them with a equal or superior product is the responsibility of the WSLCCB and the DOH, under current law. Your proposed CBD ratio's are not only expensive but also unattainable without being able to concentrate in ways you are not allowing with proposal. Also there is no research to support such high ratio dosing for individuals.
---
Spokane lab finds pesticides in many marijuana products
By Kip Hill, Spokesman Review
Searching for contaminants on marijuana is a lot like spying a certain red-and-white clad everyman in a children's book, lab owner Gordon Fagras said.
"You've got to find Waldo, hidden in all that stuff," he said, plying a test tube full of marijuana edibles at Trace Analytics in downtown Spokane earlier this month.
Turns out, there were lots of Waldos hidden in samples tested from across the state. Fagras' lab, on the request of a doctor who actively fought the legalization of marijuana in Washington state and an organization calling for pesticide-free pot, tested dozens of flower and concentrate samples straight from store shelves.
State regulators and the marijuana industry are preparing for a significant change in state rules later this year when medical marijuana will fall under the same regulations as recreational marijuana for the first time. The change is prompting some to push the state to more strictly enforce rules on pesticides.
In results first published by Seattle's alternative weekly newspaper the Stranger, Trace Analytics found multiple products containing pesticide levels in the tens of thousands parts per billion range.
The Washington Department of Health publishes a list of pesticides approved for use on marijuana. Using any other chemical is outlawed, but there's no systematic test in place to discover violations.
Unlike produce and tobacco, there are few studies on the harmful effects of smoking marijuana containing large amounts of pesticides. And the way the state's marijuana laws are written, enforcement is driven by complaints and randomized testing from the Liquor and Cannabis Board, which have produced relatively few violations for pesticide-related offenses compared to other issues.
"The state's making a valiant effort to get it right, but if you're looking at it inside the system, there's holes everywhere," Fagras said.
Source: Spokesman Review
---
Ecological agriculture comes to commercial marijuana
by Richard Freeman, Ph.D.
In the rapidly evolving marijuana industry, resilience and adaptability are emerging as key traits for business survival. Successful investors, farmers and managers are able to sense trends while quickly adapting to unexpected developments. The industry was born in change, emerging from prohibition-era economics to mainstream agriculture, where cannabis farmers are no longer dominated by the need for stealth and can focus directly on cultivation.
Source: Marijuana Venture
---
25 more products on shelves at recreational marijuana stores have tested positive for illegal pesticides
By Tobias Coughlin-Bogue, The Stranger
The Uncle Ike's pesticide tests were just an appetizer. The entrée is even harder to swallow.
Recently, Dr. Gil Mobley, as well as the Clean Cannabis Association (CCA), commissioned a series of pesticide tests at Trace Analytics on random samples of Washington recreational marijuana products.
I just got the results from the 37 concentrate and flower products submitted in their tests, and I hate to be the bearer of bad news (again and again and again), but we're totally fucking fucked. Since this legal weed bonanza began, I've written a lot of articles calling attention to the issue of pesticides on our pot,and I've been told by a lot of different people—the Washington State Liquor and Cannabis Board (WSLCB) especially—that I'm beating a dead horse.
Well, 25 concentrate and flower products failed the test. Three out of ten flower samples came up positive for illegal pesticides, while 22 of 27 concentrate samples came up positive for illegal pesticides, many of them at eye-popping levels.
While I'm not the least bit surprised to see popular concentrate products ringing in at tens of thousands of parts per billion (ppb) of banned pesticides, I am pretty goddamn dismayed. Especially when every cannabis producer's website goes on at length about how their products are the purest puff of unicorn farts to ever grace a vape pen. They're not. The levels discovered in these tests are irrefutable evidence that people have been actively spraying their products with some really terrible pesticides.
Source: The Stranger Slog
---
Colorado Grower Fighting Back Over Product Recall
Pesticide-related product recalls in Colorado's cannabis industry have become increasingly common over the past year, but possibly for the first time, a company facing a "massive" recall is decrying the action by the state and claiming it never used the pesticide officials say contaminated its samples.
MGI Inc., which does business as Kindman, is the target of a recall involving possibly dozens of strains grown over a nearly two-year period, according to the Denver Post. The recall was initiated by state officials after samples from Kindman tested positive for imidacloprid, an insecticide not approved for use on cannabis.
But Kindman CEO Ryan Fox said in a statement on Thursday that his company "absolutely has not used this pesticide in production."
Source: MJBizDaily.com
---
Cannabis consumer product safety
Pesticides.
CannaNews, DOPE Magazine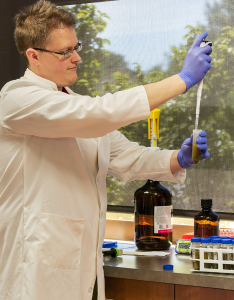 The path to cannabis' legalization and its acceptance as a legitimate medicine in this country has been long, tortuous, and unconventional, but now the industry faces a conventional threat that has hobbled many agricultural crop producers in the past: the use of pesticides. The threat that pesticides pose is twofold.
First, pesticide-tainted cannabis, especially in its concentrated form, might harm users' health in the short- and long-term. Second, is public perception–regardless of the facts–that the cannabis on store shelves is laced with pesticides that can compromise human health, which, in return, could lead to financial losses all along the cannabis supply chain.
This has been seen before within Washington's apple industry. It suffered crippling losses in the early 1990s when the use of the pesticide Alar, a known carcinogen, became widely known. Washington regulatory agencies, including the state Department of Health, the state Department of Agriculture, and the state Liquor and Cannabis Board, are developing standards for pesticide use on cannabis crops, but that's only half the solution. It's critical that the state develops, and enforces, strict standards on the use of unsanctioned pesticides and ensures that testing and labeling of all cannabis products sold in the state is thorough and transparent.
---
Cannabis testing labs forced to suspend operations. Concern over pesticide use rattles industry.
Testing Technologies in Poulsbo, Washington State, has hit pause on its cannabis testing services after firing its science director, alleging that potency values were "pulled from thin air" and that tests for contaminants were inaccurate.
The company's CEO, Larry Ward, announced the situation in a letter to customers, according to the Seattle Times.
But the company's erstwhile science director, Dustin Newman, who was fired Feb. 10, countered with his own letter alleging Ward let him go because of business disputes.
Ward blamed a profit-sharing arrangement with Newman that incentivized the scientist to produce business-friendly results.
To avoid such problems in the future, Ward said he would contract rather than hire his scientific directors. For now, the lab can't test until it finds a new science chief and receives a new state certification.
Regulators from Washington's Liquor and Cannabis Board met with officials from the state's 11 other labs on March 7 to discuss how to improve testing standards.
Jim MacRae, a data scientist who analyzed the results of the state's 12 labs last year, told the Times on Monday that Testing Technologies had the most business-friendly rating of the labs.
Earlier, MacRae said there were four labs that didn't fail any cannabis for contaminants, while two labs failed 44% of the product they tested, a variation that he said was illogical.
Source: MJBizDaily.com
---
More Colorado pot recalled over pesticide concerns
By David Migoya and Ricardo Baca
State marijuana regulators on Monday recalled 31 batches covering five strains of medical marijuana grown and sold by a Bailey dispensary, the latest in a string of product health advisories over pesticide concerns.
Officials say marijuana grown by Sunrise Solutions is impacted, including flower, trim, concentrates and infused products, and consumers should return them to the place of purchase to ensure they are properly disposed. The recall — the state calls it a health advisory — comes after regulators say tests confirm the presence of pesticides that are not approved for use on marijuana.  The owners of the dispensary and cultivation could not be immediately reached.
It is unclear how large the recall is or how many products and plants are affected. Product labels will contain the business's license number, 403-00856 or 402-00576, The list of strains can be found on the state's website. The company's website did not offer any information about the recall or that one has been declared.
It is the state's sixth recall since its first announcement on Feb. 17and comes after Gov. John Hickenlooper in November declared that any marijuana grown with unapproved pesticides is a public health risk and should be destroyed.
By David Migoya and Ricardo Baca

---
"Certified Organic" really doesn't mean anything when it comes to marijuana.
Because marijuana is still illegal federally, and organic standards are regulated at the federal level, non-organic growers can market their product as organic without consequence. The Associated Press reports that Colorado is trying to fix that problem—at least for marijuana being sold in the state.
"Consumers have a right to know what they're putting in their body," Colorado Representative Jonathan Singer told the AP. He's sponsoring a bill that will allow organic regulation at the state level. It will be heard before the state House Public Health Care and Human Services Committee for the first time on Friday. The bill doesn't actually lay out standards for organic marijuana, but requests that a third party be enlisted by the state's agricultural department to draft them.
Source: Fortune.com
---
Washington's first 502 marijuana product recall.
For many months, marijuana product recalls stemming from the use of prohibited pesticides have been a consistent problem in Colorado, while Washington seemed, for a while, to be free of such concerns. On Friday, however, Washington-based cannabis wholesaler Evergreen Herbal issued the state's first voluntary pot product recall due to pesticide concerns.
The recall is thanks to unfortunate growing mishaps by two producers — New Leaf Enterprises and BMF Washington — who were recently investigated by the Washington Liquor and Cannabis Board (LCB) for the use of prohibited pesticides.
Source: The Ganjapreneur
---
Marijuana found to improve brain function - as long as it's not laced with pesticides!
"Notably, there are moderate advantages to be garnered from medicinal cannabis. Unfortunately, it also possess some disadvantages which should be considered. Marijuana can reverse cognitive decline…as long as it's not laced with toxic pesticides. One of the most surprising and recent revelations about cannabinoids are their capability to perform as antioxidants in the brain.
German experts have found that the brain's cannabinoid system has the capability of restoring impaired brain cells, while developing new ones. Cannabinoids may curb the effects of Alzheimer's, Parkinson's, Huntington's disease and possibly more.
The news was revealed in the journal Philosophical Transactions of the Royal Society B. The researchers discovered that natural marijuana, that is marijuana devoid of pesticides, can curb brain inflammation behind an onslaught of cognitive disorders, including Alzheimer's disease, Parkinson's disease, Huntington's disease and other similar diseases."
Source: Medicine.News
---
Pesticide Testing and Cannabis Product Safety
Spokane cannabis testing lab now screening for banned pesticide residue on recreational marijuana destined for consumers.
At present, the Washington State Liquor & Cannabis Board does not mandate testing for pesticides on recreational marijuana.  While the WSLCB and Washington Department of Agriculture have approved over 200 pesticides, the vast majority usually connected with cannabis are banned from use.  As consumers become more aware of the situation, the pushback against all pesticide-use is gaining momentum.
Many advocacy groups in the state have been attempting to raise public awareness about the safety of the medical and recreational supply and some have resorted to protesting outside high visibility retail stores to draw attention to the facts.  They are pointing fingers at the WSLCB over the apparent lack of strict enforcement of their own rules and oversight of the states' 12 approved cannabis labs.
---
Safety of Medical Marijuana Challenged
A Missouri doctor questions the safety of marijuana in Washington state's pot system. But labs and the state agency that regulates pot question his findings and tactics.
"Seated at a desk inside his downtown Seattle hotel room, Dr. Gil Mobley pulled out a sterile field surgery kit, snapped on latex gloves and pulled a mask over his face. He carefully arranged his medical instruments, grabbed tweezers and went to work.
Mobley, 60, wasn't performing hotel-room surgery. He and fellow medical-marijuana activist Brian Stone were carefully preparing two ounces of Blazin's Grapefruit purchased that morning from Uncle Ike's Pot Shop in Seattle's Central District. The pot cost more than $700.
The room reeked when a hotel maid cracked the door and said, "housekeeping." Mobley shooed her away.  Mobley and Stone ground about half the golf-ball-size buds, then loaded three grams of powdered pot and three grams of fresh bud into 16 plastic vials.
Later that day, Mobley took his vials along with packages of marijuana concentrate to five Seattle-area labs. He took a slew of samples to Portland for pesticide testing later that week. Convinced he'd find wide-ranging results, Mobley sought to discredit the Initiative 502 testing program.
"I have a hypothesis. It's a gamble it will work out. We need consistent testing and to add pesticides" to current regulations for recreational marijuana, he said.
Source: Seattle Times 
---
Support for Medical Marijuana Grows in Tennessee - Especially for Veterans
by Robert Celt
Republican state Rep. Jeremy Faison represents East Tennessee's 11th District. He says he's never smoked marijuana, nor taken any kind of intoxicant. But that doesn't stop him from supporting what he believes to be the medical benefit of the plant, particularly in aiding post-traumatic stress disorder suffered by military veterans.
Faison's colleague, Matthew Hill, a Republican state representative elected by the constituents of Washington County's 7th District, says like Faison, he's never smoked marijuana, or cannabis.
But his support of medical marijuana doesn't necessarily go as far as his colleague.
Source: 420Magazine.com
---
Hawaii Department of Health Selects BioTrackTHC for its Seed-to-Sale Tracking
PRNewswire/ — The Hawaii Department of Health's Office of Health Care Assurance has selected BioTrackTHC™ as the winner apparent for its state contract for tracking the production, transportation and sale of medical marijuana.
"The development of a healthy and successful medical cannabis program is a top priority for Hawaii, and we are extremely proud to have been chosen to be a critical part of it," said Patrick Vo, CEO, BioTrackTHC. "The islands of Hawaii are truly unique and we very much look forward to applying our expertise in solving the cannabis traceability challenges unique to Hawaii."
BioTrackTHC's government software solution will provide the Hawaii Department of Health real-time visibility into the seed-to-sale tracking data of every licensed medical marijuana dispensary in the state, including plant and inventory quantities, production activity, laboratory testing results, transportation activity, and dispensing activity.
This marks the fifth cannabis-related government contract won by the company. BioTrackTHC's seed-to-sale Traceability System for government agencies is currently being utilized by the states of Washington, New Mexico, and Illinois, and is in the process of implementation by New York. The company's Enterprise System for businesses is used in more than 1,500 medical and recreational cannabis facilities in 23 states, Washington D.C., Canada, Jamaica and South America. These technologies enable government agencies and businesses to track every plant and every fraction-of-a-gram of cannabis throughout the production lifecycle—cultivation, harvest and cure, quality assurance testing, transportation, destruction, and sale—bringing transparency, accountability, and meaningful insights to cannabis operations.
The Hawaii Department of Health's Office of Health Care Assurance issued a Request for Proposals (RFP) in November of last year and posted a Notice of Award naming BioTrackTHC on December 28, 2015.
About BioTrackTHC
Bio-Tech Medical Software, Inc., through its BioTrackTHC division, develops and provides effective, cutting-edge technology solutions for the emerging medical and recreational marijuana industry. Visit www.BioTrackTHC.com for more information, email[email protected] or call 1-800-797-4711 to order software, and follow @BioTrackTHC on Twitter. Bio-Tech Medical Software, Inc. is a privately-held company, based in Fort Lauderdale, Florida.
BioTrackTHC Contact:
Phillip Bergman
Cell: 845-728-3984
Email: [email protected]
---
Cannabis Testing Lab Results Vary Widely
By Bob Young
Seattle Times staff reporter
Some state-certified marijuana labs testing for microbes such as E. coli and mold appear more friendly to pot merchants than others, according to an analysis by a Woodinville data scientist.
Four labs rejected none of the pot they tested over a three-month period last year, according to the analysis by Jim MacRae. Four other labs failed more than 12 percent of samples tested over the same time, with two labs rejecting 44 percent of samples for microbes.
"It's almost impossible for that to happen," said David Lampach, co-founder of Steep Hill Labs in Tukwila, of the disparity.
Source: Seattle Times
---
 Pesticides CO: largest recall of marijuana products yet
It was a dark day in Denver for edibles and the people who love them. More than 99,500 packages of Mountain High Suckers—marijuana-infused candy—were recalled on Wednesday, the Cannabist reports. It was Denver's largest recall of marijuana or marijuana products yet and the 15th such recall in 16 weeks. Back in November, Colorado's Gov. John Hickenlooper ordered the destruction of any marijuana treated with unapproved pesticides or any product made with that marijuana. According to the Cannabist, Mountain High Suckers' products tested positive for imidacloprid and myclobutanil, pesticides Hickenlooper has called a "threat to the public safety" and that the state has banned for use on marijuana plants.
Mountain High Suckers apologized to its customers on Facebook. "We decided to take a proactive step and submit samples of all of our products for pesticide testing so we can help make sure that our products are safe," the company states. "Going forward, we will be voluntarily submitting every concentrate batch we make for full pesticide screening before we make products." Because marijuana remains illegal federally, the EPA has yet to actually rule on what pesticides are safe for use on cannabis crops.
Source: Newser
---
Confusion Surrounds Cannabis Testing
by Gregory Frye, Green Flower Media
Pull back the curtain on the testing side of the industry, and you'll find a complete mess – a disturbing mixture of incompetency and profiteering.
The biggest thing cannabis advocates can do to ensure safer testing standards is to lobby for the end of federal prohibition.
"Cannabis testing is all over the place because of the federal status," Donald Land says. "The best thing we can do is get the law changed and that requires a lot of congressmen and senators getting phone calls and letters from their constituents to change things on a federal level. It's still a political battle."
Source: by Gregory Frye, Green Flower Media
---