"Washington's pot industry, pesticide use remains hazy"
"When the state of Washington began selling legal marijuana just over a year ago, advocates bathed in the glow of a market that could come out of the shadows, and be made safer. Tests and standards could begin instituted, as they are with the food, tobacco, and other products we consume. But as the plant goes from small underground operations to warehouse and fields, the monetary risk of the pests grows, while the use of pesticides to control them remains foggy.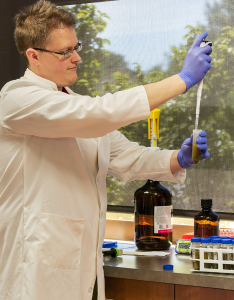 "The (state) tests for potency, but they do not go, 'Oh, by the way, we want to make sure these live up to standards for human consumption,'" says Robert Whelan, an ECONorthwest economist. Washington's lack of regulations on pesticide use is particularly concerning for edibles, he says. "It's the Wild West….We're supposed to trust (growers) to do the right thing… but God knows what you get."
"Earlier this year, 11 growing facilities in Denver were forced to quarantine tens of thousands of cannabis plants, after health inspectors got a tip from operation employees who suspected the use of unsafe pesticides. Just last month, an independent investigation by The Oregonian found medical marijuana products laced with pesticide levels above what the state allows.
Both Colorado and Washington have guidelines for the use of pesticides in recreational marijuana production and cultivation, though these chemicals — generic enough for food — are not federally approved for the drug. However, while Washington will follow-up on complaints of pesticide use, random state inspections to keep pesticide levels in check are still in the planning stages.
As with any plant, marijuana is prone to pests and disease. Pesticides and herbicides, some of the industrial-strength variety, are routinely used to prevent bugs and mildew from destroying plants, which could set back growing operations millions of dollars.
The Washington State Liquor Control Board enforces the state's cannabis laws, and checks crops for moisture and mold levels. "But we're not required to do pesticide testing," says Brian Smith, Liquor Control Board communications director.
"To test for pesticides you actually have to have specific protocols to test for the specific types of pesticides," says Smith. "Buying the equipment is upwards of $300,000 to $400,000… and there are so many pesticides out there you'd only be testing for only the most commonly used."
However, some of these pesticides and herbicides could potentially risk consumer health. And "organically-grown" marijuana is not necessarily better.
"Organic is problematic because some of the organic pesticides are really nasty," says Whelan. "Neem oil is a common organic oil that suffocates leaf sucking critters like mites, (which are) really the nemesis to marijuana. But organic doesn't mean safe. The oil is irritating to the skin, and this is a product that you smoke. So if you put anything on it, that's going to go to your lungs."
One of the grow operations quarantined in Denver was found to be using the fungicide Eagle 20, of which they were forced to eliminate. Eagle 20 is one of the more common pesticides used on marijuana. It is banned for use on tobacco, because it can be dangerous if heated. One might imagine the same would go for marijuana, but simply being on a list of banned pesticides didn't stop their use in Colorado, and potentially isn't in Washington either. Without a system to test for these pesticides, it's difficult to know.
Because marijuana has been illegal for so long, there has been little research on what pesticides could cause a marijuana crop to be unhealthy for consumption, and growers lack references to produce marijuana in a health conscious manner. Because the plant is still federally illegal, this will not be changing soon.
In Washington's medical marijuana market, Smith says there's even less clarity and regulation.
"It's important, especially in the realm of medical marijuana that people know if something has pesticides in it," Smith says. "You call it the medical market, but it's really what you would call the gray market. It exists somewhere in limbo that's not quite legal, yet. Really anything goes in those places."
Smith says that though list of accepted pesticides exists in Washington, but it is the result of guesswork, not hard research. Medical marijuana growers that stray from it would face no repercussions, and consumers would not know they are consuming marijuana with potential poisons in it.
"What you have now is a list of acceptable pesticides that's maintained by Washington State University," says Smith. "Every one of those pesticides are okay to use for marijuana….One of the problems is that there's nothing federally that allows for research and testing and all these things. So this market is being established with all these kinds of protocols without any real research behind it as to what we use and what can be used."
Source: Crossroads article by Amelia Havanec
---